Jack Berry Memorial Kindergarten
21/11/2017 -

Lu, Tina, Charlie and I have now had a bit of time to think about what we want to achieve in Jack's memory and as a result feel that with so many people (many of whom we don't even know) raising and donating money and because we now see this as a long term venture and legacy, that it is more appropriate and will provide better governance, if we were to set up Jack Berry Fijian Foundation as a registered charity.
​
In the meantime it has been full steam ahead with our plans ...Lu's family in Fiji are all working tirelessly to get things sorted. They have already located the land for the pre-school in Lu's family village of Naqia, have already received a number of quotes from local contractors and have lodged plans for the pre-school with the relevant Fijian authorities.

As part of the planning process they have named the pre-school The Jack Berry Memorial Kindergarten School of which he will be so proud.
However, we are not intending the pre-school to be the end, but just the beginning. We also intend to build a new dining hall and extra classroom for the existing school for the older children, as well as looking at the longer term provision of a teacher, look at scholarship options in the UK and also for people to travel to Fiji and spend time at the school etc .
school sign
school 2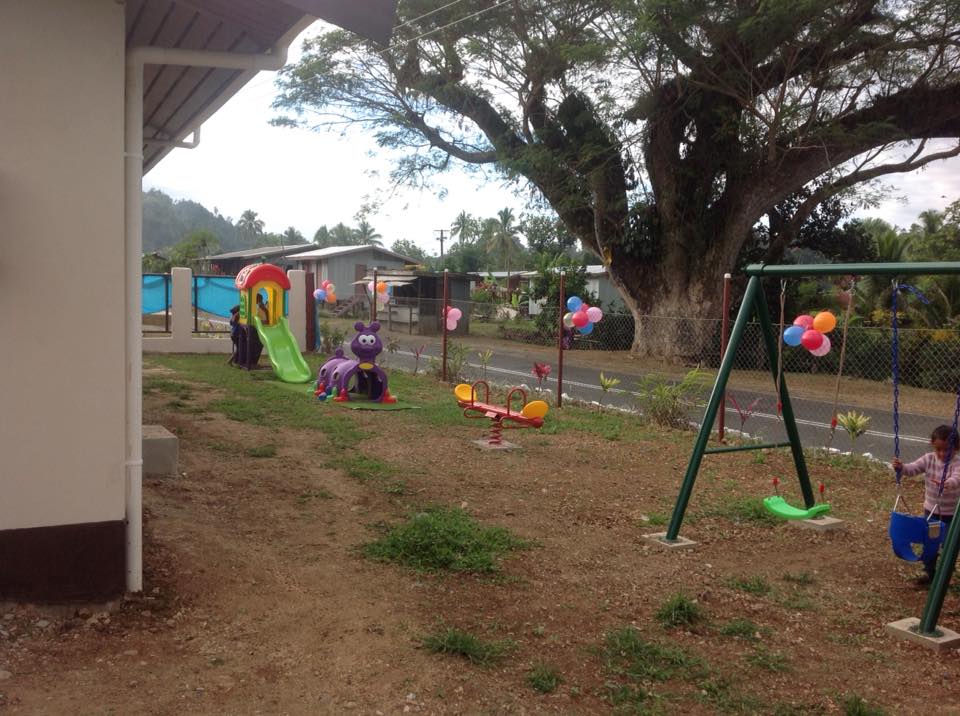 playground
school plaque
school opening
jack (2)
inside
39269531_2142191585810782_57390269426323
39134980_2142012859161988_18560131184554
opening
39186507_2142190605810880_43261689019655
39193566_2142462929116981_34303850063111
johns speech
39253406_2142013965828544_82769468561230
group
jack (1)
​
​
02/02/2018 -

Work on the Jack Berry Memorial Kindegarten begins on the third week of this month and here are a few pictures of the site, and of the families that are going to benefit so much from their new school , and not just these children, but their children and their children's children.....
​
23/02/2018 -

As you can see from the photos the work is well and truly underway now, with the first supplies being delivered and the footings started. The blockwork will begin in earnest early next week.
​
07/03/2018 -

We are building it and they keep on coming .........
These are photos taken during the laying of the foundation where the Church Minister was present to bless the the laying of the foundation.
A slight delay as the local authority needed to sign off the steels and footing.
All the men and women of Naqia took part in the first layering of the foundation together with men and women from neighbouring villages who were also present to witness the ceremony. This was followed by refreshments prepared by the ladies in the village.
The fourth row of blocks are being laid today and mixing the floor next week.
​
15/03/2018 -
​
Another fantastic effort by the men of Naqia and surrounding villages, who have managed to mix and lay the floor of Jack's school (BY HAND) in two days ...as well as Iva and the ladies keeping their strength up by cooking lunch on site.
​
05/05/2018 -

This morning I received the latest photos of the Jack Berry Memorial Kindergarten from Fiji. It doesn't seem like 5 mins since we were in Naqia, but the progress is amazing and it all looks so different with the roof on, and they're all doing an amzing job out there .... especially Lu's uncle Semi Turaga who is managing the whole project.
03/06/2018 -

Here you will see the latest photos of Jack's school ....it already seems to have come on leaps and bounds since we visited in April and is going to do us all proud without doubt.
​
14/06/2018 -

The Jack Berry Memorial Kindergarten is getting closer and closer to completion. The actual building work is now complete and we are now at the cosmetics stage of plastering, painting etc as well as purchasing the children's tables and chairs, teacher's desk, computer, printer, filing cabinets , educational toys , TV, school signs , mops, buckets as well as swings , play sets etc for the playground. This will all take place over the next couple of months.
​
31/07/2018 -

It's been a good while now since I've updated you all on the progress with Jack's school in Naqia – this hasn't been because of a lack of activity in the last couple of months, but quite the opposite, as everyone in Naqia has been flat out trying to get everything completed in time for our return visit in two weeks time.
Yesterday we had the amazing news that the Jack Berry Memorial Kindergarten will be officially opened on Weds 15th August by the Prime Minister of Fiji Frank Bainimarama.
We are extremely honoured and proud that the Prime Minister himself is taking time out to officiate at the opening, but I believe it is just reward and recognition for all the hard work that has taken place both in Naqia and at home on behalf of the Jack Berry Fijian Foundation. I hope that every single one of you that has contributed in some way to this project, however big or small, is equally as proud of the school, as us.
​
15/08/2018- What a day !!!!

On the 28th October last year, God, Fate, the Universe or whoever is running this show left us in no uncertain terms who was in charge, that we were mere pawns in the game of life and not supposed to have any control over what happens ....
Well yesterday in a small village called Naqia, Fiji it was our turn to prove that we could do just that, to take the very worst of what life could throw at us, channel our grief and love into creating something positive, and with the help of so many friends and families create a wonderful legacy for Jack.
When we walked through the village yesterday morning towards the kindergarten , people were crossing the road to shake our hands and thank us for blessing their communities with Jack's Kindergarten.
Reaching the school gates and seeing the school sign bearing Jack's name was such an incredibly emotional moment. Not only does the sign represent the culmination of months of hard work on both sides of the world, the immense amount of love that everybody had for Jack, but also an example of no matter how tough things are or seem, there is always a way forward and that anything is possible.
He would be so proud and yet also humbled at seeing his name up in lights, and being the centre of attention, watching the families queue up to have their photos taken next to the sign and and next to his photo that sits proudly overlooking the classroom.
Watching the children playing on the playground equipment, whilst talking to their parents and grandparents with tears of gratitude in their eyes was just a wonderful heartwarming experience.
In the afternoon we were guests of honour at a District ceremony where we were again thanked by so many people, and presented with a number of traditional Fijian gifts but most remarkably, we were presented with a Tabua (tambooah) , which is a whales tooth and deemed the most sacred of items in Fijian culture and tradition.
From start to finish it was a truly amazing day, with lots of talk about the kindergarten, the charity, the people in Wales and the people in Naqia, the Prime Minister , the Church and many more besides ....but for me yesterday ...was all about just one person ...an incredibly special person that touched the lives of so many people before and continues to do so today .....I could never find the words to explain just how much the last 10 months has hurt or how much we miss him .....but my vision of 10 months ago is now a reality, and Jack has his legacy ......he always made us so proud but never more than yesterday ......
​
#itoldyouthatwedbuilditandtheywouldcome
​
Jack Berry Memorial Kindergarten Class of 2019 Graduation -
​
It sounds like it was yet another amazing day and I feel it's best described by Semi Turaga ( Head of the village of Naqia) as follows...
"Bula vinaka to all our family in wales. I hope all is well on your side of the world.
The JBMK first school year has come to an end and what an ending it has been. Words cannot express the atmosphere, and you'd have to be here in person to witness the feeling, that is, the hugs, the tears and the congratulations as our pioneer class of JBMK 2019 graduated. The bond shared by the parents of our students is something that will forever be cherished by them.
In the 60 years in the establishment of the primary school next door in which JBMK comes under,history was created as this was the first year a kindergarten school ie.JBMK produced graduates.
The program began at 11am with the JBMK graduates marching to the big school ground to join the graduates from the primary school. JBMK as usual stole the show, with their gowns and the parents of JBMK wore the same colored sulu jaba and shirts.
Their luncheon was very well prepared by the parents and us and they all enjoyed their food.
The next day, JBMK celebrated the birthday of four children for term 3 and a last farewell lunch was enjoyed again by the JBMK family.
Just wanted to tell you John how happy we are of our kindergarten's achievements.
Lastly , the school manager on behalf of the parents and guardians have asked me to convey to all the JBMK family and supporters in Wales their words of appreciation and gratitude in your generosity in deeds, clothing and school materials and financial assistance that has enable JBMK complete its first school year in flying colours and a punch above all others in the district."
The guests of honor were a father and son duo from the next village. ..the father is a captain of a local ship that sails to vanualevu(fiji's 2nd biggest island) who came in full uniform and his son in studying at uni(USP) doing a double major in science.
They both gave speeches to motivate the students to study hard and follow their dreams never mind the hardships they may face."
I think that sums it all up perfectly and think there's very little I can add as the gratitude and pride can be sensed in every one of Semi's words.
​
I would however like to thank each and every one of you who has contributed to Jack's Foundation and helped create such a fantastic legacy , whether it has been a financial donation, your time and effort or messages of support. Quite simply none of this could have happened without you and I hope that you all feel the same amount of pride as I do.
I'd also like to thank Semi, Iva and Sylvia, the two teachers at JBMK who have done such an amazing job with the children, and the parents and children of Naqia.
We may well have funded the construction of the school and "built the shell" but the wonderful families of Naqia and the smiling faces and laughter of the children have placed "a beating heart" in that shell, and in doing so have not only helped build Jack's legacy but have helped us in some way to fill our void and ensure that something hugely positive has come from our loss.
In coming together in such circumstances, and not giving up, we (the JBFF family) have already influenced 30 children and families and as time and the years go by, our and Jack's influence can but only grow.
A massive thank you to each and everyone of you 👊❤️.....
​